About John Blake, Jr.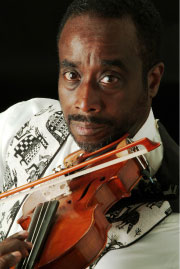 Click here to watch a short biographical video titled
John Blake —
The Man, The Legend.
John Blake, Jr. has been one of the world's leading jazz violinists for over four decades. A four-time winner of the Down Beat Critics' Poll Violinist Deserving Wider Recognition category he was also one of the top two jazz violinists in the 49th, 50th, and 51st Down Beat Readers' Poll, Classically trained, Blake first gained recognition on early-'70s recordings he made with Archie Shepp and in the mid-70s became established with a global audience during three years recording and touring as a member of Grover Washington, Jr.'s popular "crossover" jazz band. He then spent five years working extensively as a member of various ensembles led by pianist McCoy. Among other artists with whom Blake has performed and/or recorded with are the Duke Ellington Orchestra, Turtle Island String Quartet, Quartet Indigo, the Steve Turre Sextet, the Billy Taylor Trio, Avery Sharpe, Cecil McBee, Jay Hoggard and James Newton. Blake released his recording debut as a leader and composer, Maiden Dance, in 1984, the first of five well-received projects on Gramavision Records including one that teamed him up with fellow jazz violinists Michal Urbaniak and Didier Lockwood. He released his sixth album, Quest that reunited him with Grover Washington and featured Joe Ford, Charles Fambrough, Ben Riley, Omar Hill, Joey Calderazzo, on Sunnyside Records 1992. Blake's first recording with his current quartet, The Traveler, was released in 2007.
Born in Philadelphia on July 3, 1947, Blake began studying violin in that city's public school system and at the Settlement Music School. After graduating from West Virginia University he did postgraduate work at the Institute for Advanced Studies in Montreux, Switzerland and received a grant to study studied East Indian music. In addition to his work as an instrumentalist performing with his quartet and as a featured guest soloist at concerts and on studio sessions, Blake is also an accomplished composer, arranger and producer as well as an author, teacher and lecturer who presents hundreds of workshops annually to musicians at all levels. He co-wrote with Suzuki educator Jody Harmon J.I.M.E., the definitive beginning string jazz method book and CD in use around the world. In addition to lecturing on campuses throughout the US, Blake is on the faculty of the University of the Arts in Philadelphia and at the Manhattan School of Music in New York City, and has been a guest lecturer at Berklee College of Music in Boston. In 2004 he was appointed to the Basler Chair of Excellence for the winter semester at East Tennessee State University and that year also was awarded a Chamber Music America Jazz Composer Grant.