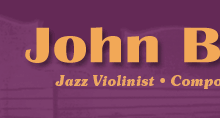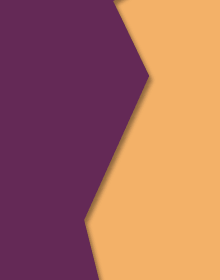 What Does Jazz Violinist John Blake Jr.
Have to Offer You?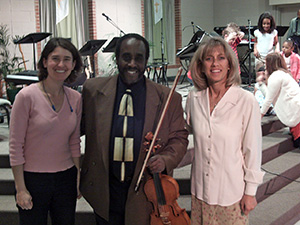 Answers:
John has a wealth of experience as a jazz improviser on violin, not only as a leader, but also as a sideman to some of jazz's legends. To name a few: Dr. Billy Taylor, Grover Washington Jr. and McCoy Tyner.
John is also a lecturer, educator/clinician, composer, producer, recording artist, and author.
John has many different programming options.
Funding support is available.
For 2008 & 2009 John Blake Jr. is seeking to book performances of his original composition "A Celebration of Fiddle Music from Africa to America." This work has already been performed in Philadelphia, New York City and most recently in Washington, DC at the Kennedy Center. As a work commissioned by Chamber Music America, new performances may be partially funded by Chamber Music America's Encore Program. Qualified presenters may also be eligible for additional funding from PennPAT. The core group of musicians for these performances consist of notables such as Sumi Tonooka on piano, Boris Koslov on bass, John's son Johnathan Blake on drums, Diane Monroe on fiddle & violin, Dr. Gibbs on percussion, John's sister Charlotte Blake-Alston on fiddles & vocals, and John Blake Jr. on fiddle & violin. This composition is not only very entertaining, but demonstrates a significant historical view of the relationship between the fiddle and African-Americans. Your audience will not only be entertained, but will also be enlightened.
The John Blake Quartet is available for workshops and performances. All the quartet members are not only dynamic performers, but gifted educators. Your audiences will be presented with many of John's vibrant tunes from the past, plus music from his latest CD The Traveler.
John's latest project is the recording of traditional Negro Spirituals. Arrangements are all enhanced with John's special harmonization, keeping the original melodies intact and embellished with his genius of improvisation.
John has many different programs to present. Two are with his famous storyteller sister, Charlotte Blake-Alston. The first is "Fiddlin' with Stories", an entertaining educational duet with John & Charlotte presenting wonderful stories with improvisational fiddling in the background, highlighting string instruments from Africa and America. The 2nd is with the John Blake Quartet and Charlotte, entitled "Tellin' on the Downbeat". "Tellin'" is a family program that combines storytelling and jazz, featuring Charlotte and John's quartet. The blending of the storytelling and the music brings about some hilarious moments during the program. This program is great for all ages.
There are other performance formats John has to offer. Possible partial funding may be available for all the above projects thru:

www.PennPAT.org. PennPAT offers support for touring engagements with PennPAT roster artists to presenters in DE, MD, NJ, NY, NC, OH, PA, VA, US VI, and WV. As a PennPAT roster artist, John's projects have been very well supported by PennPAT in the past.
www.MidatlanticArts.org
Chamber Music America's Encore Program for additional performances of John's commissioned work "A Celebration of Fiddle Music from Africa to America."

John also presents residencies, lectures and workshops internationally in places like Asia, Europe, South America and all over the United States. He's presented residencies/workshops most recently in Japan, Millersville University and the Brooklyn-Queens Conservatory of Music.
Many awards and honors have been bestowed upon him.
Above all the acclaims of John's illustrious career, he remains a humble and warm human being.
For more detailed info about John Blake Jr. visit the Biography Page. It clearly demonstrates his extraordinary and unprecedented career as a jazz violinist. And a promo DVD of his last commissioned work, A Celebration of Fiddle Music, can be found on the Videos Page. For an audio demo of John's recording catalogue visit www.ItsAboutMusic.com.
Please submit inquires to manager, Melvyn Roundtree at or 856-728-8906.